The 60's, the Beatles
Being a Beatles fan, I like most things about the Beatles. I ran into this documentary on the band made from the perspective of the BBC, which had a little bit of a different take on the decade and band from the American invasion of the band. Of course, expect some overlap, but I thought it was interesting enough to share. This is just the first part, you'll have to go to Youtube for the other parts if interested.


Lately, I've gotten on a Moody Blues kick. I love the band at times. Music depends a lot on my mood (no pun intended), but they are one of the bands I can always go back to, and enjoy listening to over and over again. Oddly the Moody Blues started out as a rhythm and blues act, coming together in Birmingham, England in 1964. I don't have their first album, which contained their first hit song, Go Now, a Bessie Banks hit, but I have a 45 rpm of it.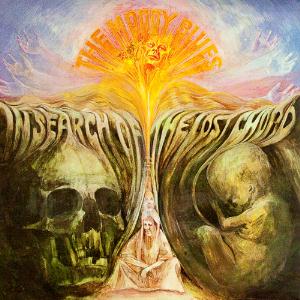 In Search of the Lost Chord was the first album by them that I picked up. Of course, I was aware of their radio hits off their Days of Future Passed album, like Tuesday Afternoon, and Knights in White Satin. But probably due to the album cover art alone, I picked up this album first. I was won over by their sound. Their songs sort of had this Sci-Fi-fantasy and mystical imagery in them. Plus all of the songs were written pretty well, had nice harmonies, and flowed in a conceptual manner. And then, they were also one of those early bands to include mellotron in their sound, and I enjoyed their flute passages as well. As I remember, Ride My Seesaw was also a radio hit back in the day.
Their third album, On The Threshold of a Dream, may be my favorite album by them, though I enjoy all of their first five or six albums pretty equally. This album continued the progression of their previous albums, in that there was a concept to the album. It starts off in a mysterious vein with sort of ominous music like being in a void or dream, and you get the feeling that the concept of the album is about man versus machine or Big Brother. Also it toys with the ideas of dreams. Is the dream a real world, or the real world a dream? Again this album featured lush string arrangements, mystical and philosophical lyrics, good harmonies, and nice production techniques by Tony Clark, sometimes known as the sixth Moody.
I eventually went back and bought Days Of Future Passed, and then also got the rest of their six albums, along with a greatest hits album. They're all pretty good too.
This is a documentary I watched on Youtube the other night on the band, it's pretty interesting and insightful.