Stanley Kubrick 1968 Playboy interview
The other night TCM Channel aired the 1968 SF film, 2001: A Space Odyssey by director Stanley Kubrick. It still remains in my Top Twenty Films of all time status, and probably further up into my Top Ten as well. An acquaintance made mention of the fact that few directors pay much attention to the invention of color in film. They just think of it as the next step in technology coming out of the black and white era, and don't think much about it other than that. They load it into their cameras and start shooting film footage, hardly much beyond that. However, he cited Stanley Kubrick as a director that took advantage of the medium. I wanted to re-watch the film 2001 with that in mind. I do remember the film being very color oriented, particularly using the color orange in some of the settings and so forth. But upon watching it again there are other examples too like in some of the color monitors and lights generated on the screen and so forth. It made me re-think the film all over again. Being a SF fan too, I think he more or less set a high water mark within the SF genre that's pretty darn hard to equal. It's not all in the visuals, though they are spectacular, but of course the way he handled the story, the music, and a lot of the other facets of film directing. It got me to thinking that such a well known project had to have gotten quite a bit of media coverage from that year, and I was curious if I could track down a Playboy interview with him. Sure enough I did. You can read it
here
, if interested.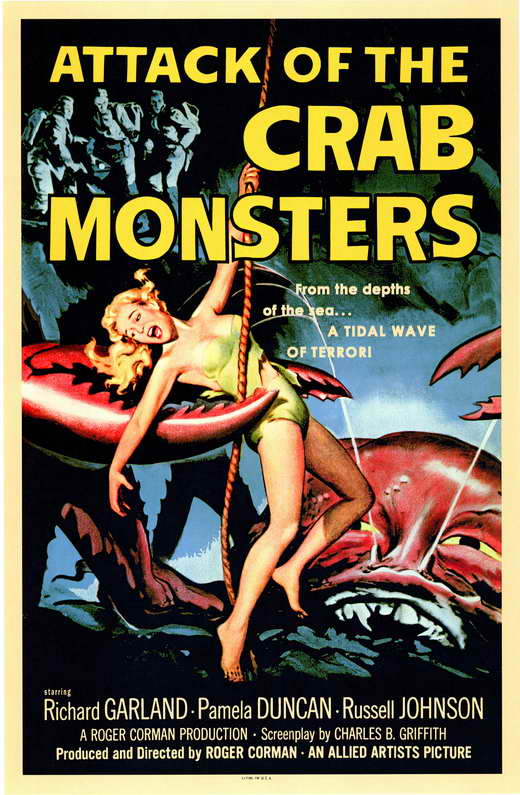 The other day I had a friend email me saying he was interested in one of my art works that I mentioned a few post ago. Since most of them are still hanging in the gallery, I told him I could send him the Attack of the Crab Monsters image I made. I mostly used unused paint from the other paintings to compose it, and since it was mostly done for fun anyway, I sent it to him. He informed me that the film was a 1957 black and white film written and directed by Roger Corman, and that he had found a copy of it along with two other early Corman films on DVD at one of the local media outlets in town. That got me interested in watching the film as well as I never had seen it. I've yet to sit down and watch it, but it's on my list of movies to check out. While looking around the web I ran across a poem that a poet, Lawrence Raab, had penned also about the same movie. . It has everything that belongs in the perfect poem (I think): a sense of humor, a sense of context, and it places the reader and poem in a very specific B movie scene -- surreal elements -- which work wonders on the unconscious.
I thought it was pretty good, and fun to read, so I thought I'd share it:
Attack of the Crab Monsters
Even from the beach I could sense it---
lack of welcome, lack of abiding life,
like something in the air, a certain
lack of sound.  Yesterday
there was a mountain out there.
Now it's gone.  And look

at this radio, each tube neatly
sliced in half.  Blow the place up!
That was my advice.
But after the storm and the earthquake,
after the tactic of the exploding plane
and the strategy of the sinking boat, it looked

like fate and I wanted to say, "Don't you see?
So what if you're a famous biochemist!
Lost with all hands is an old story."
Sure, we're on the edge
of an important breakthrough, everyone
hearing voices, everyone falling

into caves, and you're out
wandering through the jungle
in the middle of the night in your negligée.
Yes, we're way out there
on the edge of science, while the rest
of the island continues to disappear until

nothing's left except this
cliff in the middle of the ocean,
and you, in your bathing suit,
crouched behind the scuba tanks.
I'd like to tell you
not to be afraid, but I've lost

my voice. I'm not used to all these
legs, these claws, these feelers.
It's the old story, predictable
as fallout---the re-arrangement of molecules.
And everyone is surprised
and no one understands

why each man tries to kill
the thing he loves, when the change
comes over him. So now you know
what I never found the time to say.
Sweetheart, put down your flamethrower.
You know I always loved you.

By the way, I ran across the film on
Archive.org
.
You can view it
here
, if interested.