Death Race 2000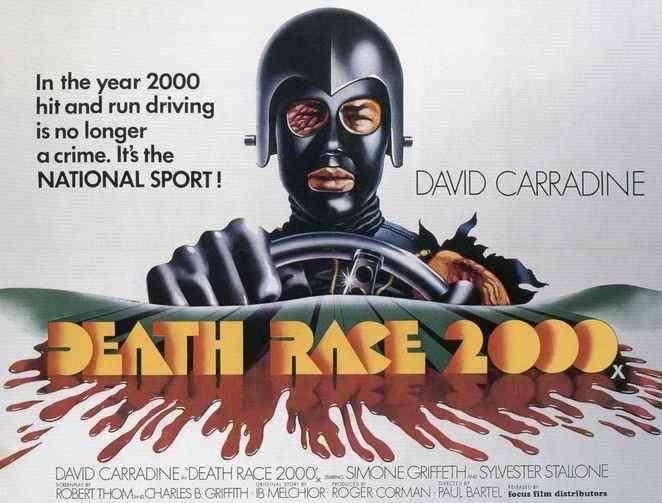 In keeping with the post apocalypse theme back in 1975, Roger Corman came out with Death Race 2000. From an unauthorized biography I have on him, simply titled, Roger Corman by Beverly Gray, she writes: "Corman's biggest film by far of the mid-1970s was the outrageous Death Race 2000. This began as his attempt to scoop up some profits from Rollerball (1975), a much hyped, expensive United Artist production starring James Caan, in which a futuristic society is dominated by a lethal game." (Also worth watching if you haven't seen the original film.)
Gray spoke with Paul Bartel, who was to direct the film. He elaborated that Corman wanted to be a David against the studio Goliath, and make a cheaper version that could be marketed along the same lines as some megaproduction. First Corman had to purchase the The Racer, a story by science fiction writer Ib Melchior in which drivers score points by running over pedestrians. Ib Melchior had also scripted other SF fare like Reptilicus, Robinson Crusoe on Mars, Journey to the Seventh Planet, but he achieved fame with Death Race (which he didn't script). Supposedly he got the idea from attending the Indianapolis Speedway, sitting with the wives with some of the racers. There was a disastrous wreck and one of the drivers was killed. The woman Melchior was seated next too was the dead racer's wife. He saw how the crowds began to push, shove and hold up their field glasses and gawk at the grisly sight, which haunted him for years. Melchior meant the story as a comment on people's mindless fascination with violence.
After a few false starts, Chuck Griffith wrote the script. David Carradine signed on to play the masked national hero named Frankenstein, and Bartel was hired for about $5,000. to direct his second feature.
What attracted Bartel to the project was its implicit black humor, which I think it still retains. The problem was that Corman wanted a serious action film. Supposedly in its original cut, described by Joe Dante as a real pop art masterpiece, that is until Roger got back the controls of it. A lot of the gags were removed from the original cut by Bartel and were replaced with additional gore. However, I think its the gore and the some of the other outrageous facets of the film that makes it still an entertaining film.
Now if you rent Death Race 2000 don't expect something all that serious, even though that might have been Corman's intentions. I still view it as a SF black comedy of sorts. It's an oddball film, not really a comedy, yet it's so over the top, it's hard not to laugh at some of the craziness. In 2008 they remade Death Race 2000, but just titled it Death Race with Jason Statham. I still prefer the original however, because what is missing is the craziness and charm. Also in 2008 they did a prequel called Death Race 2, which I haven't seen, and it tells the story of Carl "Luke" Lucas, a cop killer who is sentenced to infamous Terminal Island where his driving skills in the prison's car races earn him the nickname "Frankenstein."