February movie rundown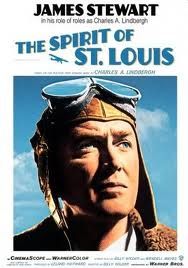 I thought I'd post some of the films I saw during the month of February. It was the Academy Awards this month, and to tie-in with that celebration Turner Classic Movie channel in the past has run some Oscar Award winner films, along with a bunch of other runners up and such. It's always a good time to try and catch something you haven't seen before or revisit one of your favorite films.

The Spirit of St. Louis starred James Stewart playing the Charles Lindbergh role in his flight across the Atlantic going from NYC to Paris. I remember seeing parts of this film if not the entire movie previously, but either way, it's still a good movie and shows the American spirit and drive. It's basically an adventure story as well, and I have some sort of fascination with that era of America. Oddly also this February, PBS had a program about the kidnapping of the Lindbergh baby. There was a profiler that looked at all the evidence and came up with some rather tainted accusations that points the finger back toward Lindbergh and how he might have played a role in the kidnapping of his own child. Heady stuff.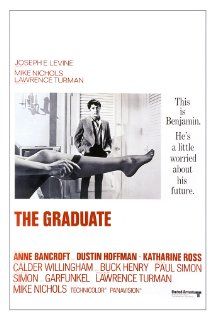 I caught The Graduate (1967) last night. I own a copy of it on DVD as well, and have seen it many times, but enjoy it every time I revisit it. I'd say it's one of my favorite films capturing the spirit and times of the late 60's without mentioning the usual cliches of that time period like the hippy/youth culture movement, drugs, and that stuff, which just makes it all the more real to me. I know that other stuff was going on, particularly in California, and love and identify with the movement, but I think Ben's (Dustin Hoffman) lifestyle as portrayed in this film was closer to the norm, excluding the affair part, of course.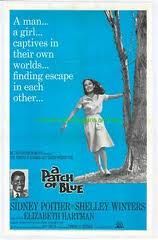 I'd always heard about the film, A Patch Of Blue, and I've enjoyed many of the films that Sidney Poitier has starred in previously, but never watched this one. I caught it playing one afternoon, and could not tear myself away from the screen even though I was getting hungry and wanted to fix a meal. It's a drama about a blind girl (Hartman) that makes beaded jewelry in a park and develops a relationship with a black man that just happens by one day. He shows her many things about life that her current guardians have not cared to teach her due to their own selfish lifestyles. It's very a poignant and touching film, worth recommending for sure.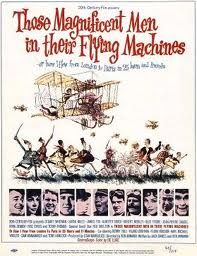 A bit of an odd choice for me as I stumbled upon it on a Sunday morning, but was won over by the zany international comedy, which is about an air race from Britain to Paris. It had rather large cast of actors, and had some nice flying sequences when showing parts of the race. There's a bit of a romance story entwined as well. It's light storytelling, family friendly, and colorful with all the different airplanes and great period costumes. Like I said, it took me by surprise, but I thought afterwards, I wouldn't mind owning a copy of that DVD.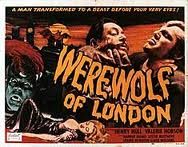 This past week on the syndicate horror hosted show, Svengoolie, they showed Werewolf of London (1935), which I had not seen. Noted for being the first werewolf movie, it was an unusual film, a bit dated, but nevertheless, worth a watch and held my interest. It had a few humorous scenes particular with the two women drinking in a pub. It also had the actor, Warner Oland, in it that played Charlie Chan in that film series. An odd tidbit of movie trivia, Oland isn't Asian, but from a Swedish American background, and even his Asian fans never suspected. I like it when the host, Svengoolie, reveals these odd tidbits about the films to his viewers.

More later. Enjoy some movies.