I'm sitting here watching the 1966 film, Grand Prix with James Garner playing a racing driver, which also includes a large cast of other actors. The film is okay, and I seem to remember going to the cinema to watch it back in the day. 1966 was a peak year for car culture it seems. Hot rods, drag racing, muscle cars, Ford Mustangs, GTO, the Chevy Camero, and car songs by the Beach Boys were the rage. Grand Prix has some great split screen racing sequences in it. The other parts of the movie are just subplots about love interest, partying, and a look into jet set culture of the time, but the real draw is the racing scenes, which are spectacular.

I got out yesterday and looked around a bit. It was overcast with rain clouds all day, and hinted at fall, which I'm ready for. I guess I'm tired of hot weather and lawn mowing. The thought of cooler weather is sublime. I went by Hastings and found two cheap collected graphic novels. I found a 500 page Showcase Jonah Hex book, and a Marvel Vol. 2 Essential Captain America book with #103-126 issues in it. They are both black and white, but I was happy to run across them particularly for the price, around $3. each.

I got up this morning and read a bit in a book by Peter Bogdanovich called Who The Hell's In It. It's conversations with Hollywood Actors. You might know Bogdanovich from his film, The Last Picture Show or others he's directed. I was reading the chapter on James Stewart, one of my favorite actors. He's been in a lot of my favorite movies like It's A Wonderful Life, the original Flight of the Phoenix, among many westerns I have enjoyed: Bend of the River, Winchester '73, The Naked Spur, The Far Country, The Man from Laramie, among many others that he's starred in. Prior to that I read the chapter on Cary Grant, another actor I've enjoyed. Did you know Cary Grant was born Archibald Alexander Leach? No wonder the name change, eh? At any rate, if that's something that interest you, you might like the book.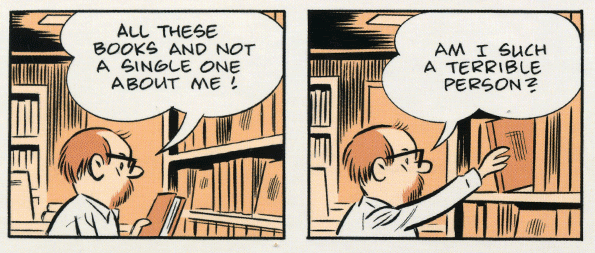 Here's a recent interview with cartoonist Daniel Clowes I ran across today. He talks about various topics and other comic artist he enjoys like Curt Swan, Don Martin, Wally Wood, etc. Go here.