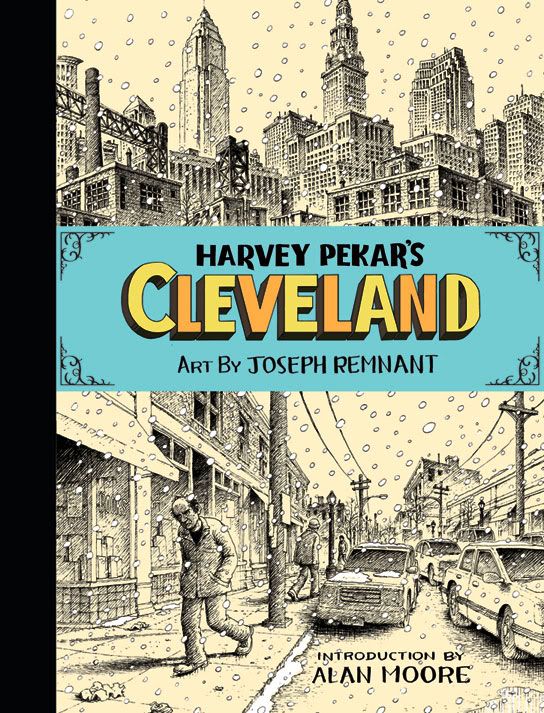 While I was in Plano, Tx over July the 4th holiday, my brother and I went by one of the Plano libraries (there are two). It's one of the most progressive library systems I've ever been in. Both have a nice selection of graphic novels, more than any I've ever seen in a library. They also have a nice selection of DVD, CDs, and of course, books. While we were there it was a very hot Texas day around 100 degrees, and the cold library was like an oasis from the heat. My brother picked up several CDs and found a biography on Kurt Vonnegut called And So It Goes. I also spied a new release, Cleveland, by Harvey Pekar, and since he enjoys his writing too, picked it up.

I read the novel there over the course of two nights before I went to bed, and it was pretty good. Pekar starts the novel by talking about baseball, and I'll admit I'm not a fan. Heck, I barely care for sports at all, although I enjoy football, both college and pro. So beginning the novel with Cleveland baseball was a bit dry for me, but enjoyable enough coming from the era and filtered through Pekar's memory. It continues on with a brief history of Cleveland starting around the 18th century, and eventually into the 40's era that Pekar grew up in. There's a little bit about him growing up as a child, his family's grocery store, which one of his previous books, The Quitter, is a little more in depth about, if you care to read more on that. He was raised in a Jewish household, and also by his grandparents. They were of modest income, but Pekar found ways to amuse himself through books, sports, and comics.

As he grew older, he became interested in jazz, politics, women, and also had to deal with finding a job. His clerical job for the VA has been written about in many of his other comics. I found it interesting though in this book that he chose to write about one of his previous wives. They seemed to be a natural fit for each other intellectually, but differed in their future goals I guess. One of the things that drove them apart was that she'd earned a fairly respectable college degree and wanted to pursue some endeavor with it, perhaps getting a job for an ivy league school. Pekar on the other hand, had already established his clerical job, which fit well with his temperament, and he didn't really care to move.

There's a few other vignettes, one of Cleveland's largest book stores and the owner, shopping in the farmers market, and Pekar mentioning how he had to sell his vast jazz record and book collections. I got the feeling, however, from reading Cleveland that Pekar had come to terms with life. That perhaps his current wife, Joyce Brabner, had shown him how to relax a bit more. Also that enjoying the simpler things in life, like owning a home or gardening, and eventually raising a daughter could be fulfilling and life enhancing.

I also have to mention the artist, Joseph Remnant. He was great. His art reminded me a lot of R. Crumb, another one of Pekar's collaborators. Remnant really captured the nuance in Pekar's writing, his rendering of the buildings and the characters of Cleveland added a lot to the story and atmosphere of the city.