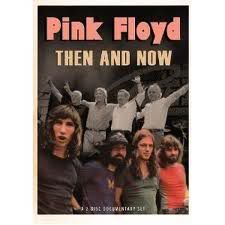 While I was at my brother's house visiting, we watched the DVD, Pink Floyd: Then and Now. I've been a Pink Floyd fan ever since I picked up Ummagumma, which if I recall correctly, was the first album I bought by them. Back then, album art was always pretty indicative sometime of what the music might sound like. I pretty much bought the album not knowing anything about Pink Floyd on the cover alone, their name, and the song titles like Set The Controls for the Heart of the Sun, etc. The band's name conjured up all this cerebral, extraterrestrial, psychedelic sound, so it piqued my curiosity greatly. That's about all the information I had on it. Such was the days before computers, mass media, and living in a small West Texas town. The album cover was the main draw, it had to get the teenage to pick it up if you weren't already a fan of the band. And pick it up I did.

The documentary is a two DVD set, the first disc exploring the early days of the band starting out with Syd Barrett and how he, as a leader, was the main thrust and creative spark for the band. He dressed the part and was pretty charismatic. He met up with the bass player, Roger Waters from school, and then eventually they met up with drummer, Nick Mason, and keyboardist, Richard Wright. The DVD starts with their formative years and their first album, The Piper At The Gates of Dawn, and then, A Saucerful of Secrets. Both DVDs are less a performance DVD, although they include tidbits of concerts and music, but moreover they are a discussion by critics as to how successful each album was and what was happening with the band when specific albums were made. This might come off too academic and boring to some, but to me, a long time fan, it filled in gaps that I'd always wondered about.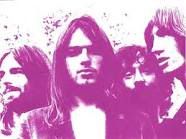 The first DVD goes up to Meddle, and the interviewers basically agree that it was one of their hallmark albums. They comment on each song, and generally agree it is a complete work where each band member shares a bit of their own input. By this time frame, Syd Barrett left the band, due to mental problems probably spurred on by the use of psychedelic drugs, and his replacement on guitar, Dave Gilmour has taken his place. Actually I think the bluesy guitar that Gilmour adds to the band is a nice fit, over Barrett's avant-garde pop leanings, although I can appreciate both. I was a bit dismayed that they didn't give much time to Ummagumma, saying that even the band members stated it's too exploratory, meandering, and either probably shouldn't have been released or edited better. I don't feel that way at all as I think it's a fair statement on where they were at that time and the state of the underground music scene at the time. I've always loved that album for the reasons they cite as criticism.

Disc two begins with their hit album Dark Side of the Moon, which still remains one of the better rock selling albums on Billboard magazine. It begin to reflect how Roger Waters now has taken on the mantle of lyricist, and also guide, stepping into the Syd Barrett vacancy. Dark Side of the Moon sold so well, and had such tremendous FM airplay back in the day, that it garnered many more fans, and Pink Floyd started having sell out shows, and continued their success with Wish You Were Here (an ode to Syd Barrett), and Animals. With each successful album it seems the other member's output were shoved aside, however, to be fair as stated in the documentary, they, at the time, didn't have much in the way of songs written to contribute anyway.

I'd always wondered why some of their later albums to me anyway, seemed more spotty or uneven. This to me seemed apparent with The Wall. It's a sprawling work, verging on excess, and I enjoy many of the song on it to this day, but it's not one of my favorite albums by them. After The Wall, the band starts having many internal conflicts, eventually Roger Waters is ostracized from the band after The Final Cut album. The next album, A Momentary Lapse of Reason many years later, was a nice comeback, but also still lacking in some regards. The reasons for the uneven nature to The Final Cut and A Momentary Lapse, are covered and why they have that quality. They also cover The Division Bell, and even when the entire band gets back together to play a benefit concert not that long ago. Currently Roger Waters is on tour with his The Wall concert. I've seen news stories on the show, and it looks like a pretty massive undertaking. At any rate, both DVDs provide a lot of insight into their past albums, and if you're a Pink Floyd fan, worth picking up or renting.