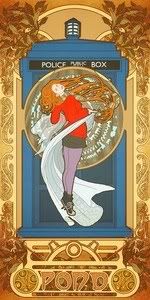 While still on the topic of Dr. Who for a bit. I ran across a neat link to a web site to share while over at the Amazon forums, which allows you to stream some of the older classic episodes. The video quality is not the greatest, but if you just want to watch some of them, it's more than fine for that, but you also have to put up with commercial messages and so forth. Still if you are on a budget, like most of us are these days, it's an economical way of perusing episodes beforehand, and perhaps you'll want to pick up a favorite episode on DVD later.

Another route, however, would be to get a Netflix membership or you can go over to Amazon and pay to stream better quality videos from them, or as I said, you could always buy a few from your favorite vendor. If you haven't checked the newer remastered DVDs, well they're the bomb. I have bought a couple of them, and the clarity of them is quite spectacular, plus a lot of them have extras features. Like The Five Doctors Special Edition has commentary by Peter Davison and writer Terrance Dicks, plus 33 minutes of soundtrack track music, and a Who's Who. Horror at Fang Rock includes some audio commentary by Louise Jameson and John Abbot, a look at Terrance Dicks 6-decade career in books and TV, Paddy Russell: A Life in Television, a retrospective interview on the director's 40-year TV career, also Antique Doctor Who Show--a short film from 1993 on Doctor Who collectibles. Doctor Who and the Silurians (Jon Pertwee) contains DVD extras like, What Lies Beneath--cast and crew explore how the socio-political climate of the late sixties shaped this story, Going Underground--is a 19 minute short on how they made that episode and the underground sequences, Musical Scales--is a retrospective on an era of musical experimentation in Doctor Who. Also other DVDs contain other such featurettes. I've seen bonus features on the BBC studio where Dr. Who first started shooting, which was very interesting, and there's one I want to check out about the Dr. Who comic books and memorabilia, and so forth. That really makes me want to collect more DVDs, just for the bonus features alone, no less the better sound and video quality.

At any rate, if you are into Dr. Who or if you are a novice and would like to explore the Whoniverse and watch a couple of the episodes, I found a pretty cool link that allows you to stream the classic Dr. Who episodes online. Here's a link for that: Life, Doctor Who & Combom.