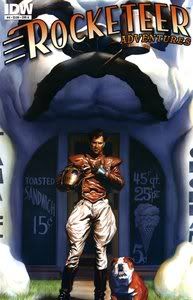 When buying comics, for me, the best way to go is wait for a sale or sometimes comb thru what I refer to as the cheapy box. That's generally a box reserved down at the local comic store of comics that haven't sold and get stuck in it hoping to sell off some inventory that didn't sell or was over ordered. Either way the comic customer wins--for one, they're cheaper, generally at least half off, and two, you can buy more for your dollar, and three, you might pick up something that you otherwise might have either overlooked or not even have known about. Which leads me to finding the Rocketeer Adventures book and the Mystery Men book, which came out last summer. Both books flew under my radar, which doesn't surprise me as I just don't keep up with newly released comics anymore. I'm the same way about movies and buying DVDs--I'll get around to them when I can, and if I wait, I usually can find a DVD at a bargain, which is how I picked up the James Cameron movie, Avatar, in a pawn shop for a buck, as well as The Godfather and The Godfather II, among others.

The Rocketeer Adventures comic is a spinoff from the old Dave Stevens title, The Rocketeer and The Rocketeer's New York Adventure, which eventually was turned into a movie by Disney. But the new series has different artist and writers, as Stevens died a while back. If you enjoyed the original or the Disney movie, you'd probably enjoy these. They contain around three stories, and issue #2 (the one I picked up), has a story in it by Darwyne Cooke and a couple of pin-ups by Geof Darrow. It's good stuff, and I enjoy the era that his series was set in.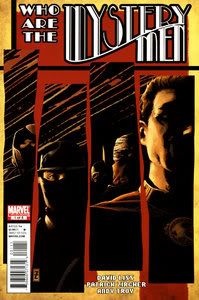 Mystery Men is also set about in the same era as the Rocketeer series, the Great Depression culminating up to WWII. It's pulp-era characters are set within the Marvel Universe, however, I haven't encountered any of the Marvel characters in it yet,while reading it, but they mentioned The Daily Bugle within the storyline. At any rate, it starts out with action and the exploits of Dennis Piper, known as The Operative. He's a cat burglar and jewel thief, beyond that, his motifs aren't clearly known. We meet his girlfriend, and then a shady character that sort of looks like a mummy, called The General. The General has dealings with another mystic demonic entity known only as Nox. There is a lot of mystery around all the characters and their motifs. Add to that the setting is NYC of the early 30's, a corrupt police force, a murder, a Dashiell Hammett Continental Ops noir flavor, a woman that's known as The Aviatrix, a ghost-like hero known as The Revenant, throw in a fedora, speakeasies, dirigibles, a little Spirit, and a little Green Hornet, shaken, not stirred. Needless-to-say, my kind of book. I'd really recommend this to those that enjoy pulp-inspired comics.