On New Year's Eve I didn't do a heck of a lot. I took it easy just pecking around on the computer, and I finally got up and decided to get out and run by a pawn shop just to see if there was anything I could find. I bought a DVD of Comanche Moon for two bucks, which is an early adventure in the Lonesome Dove saga. I remember parts of it, but was too busy with work at the time it aired to fully get into it, so it's good to add it to my western collection.

I went by Hobby Lobby here on a lark after that, just to look around mostly. I was curious what models they had there and just to see if they had anything on sale. It's the first time I'd been in the store in this town. When I lived in West Texas there was one right around the corner from me, and I'd go in it from time to time. I looked at the models, but golly I can't believe how they've gone up. I saw a AMT (I believe it was) model of the old style Batman mobile, with Batman and Robin inside driving it. It cost around $27. I could believe that price. I also saw one of those Captain America and Incredible Hulk models, but they were around the same price point. Man, inflation is something. I remember over the holidays my brother and I was watching some historical program and they were talking about some guy back in the 1940's or so making around fifty cents per hour, and average income was around $1000. to $1500. per year. It's weird to think about how times have changed in that regard.

At any rate, I didn't know what I wanted to watch once I got home. I made some leftovers from Christmas, which was still delicious, and decided to see if there was anything on computer I'd want to watch. I went over to Hulu.com and found that they had several episodes of Mystery Science Theater 3000 to watch, so decided to give that a whirl. I watched the one called Monster A Go Go. It was a pretty darn cheesy 50's SF movie, but then that makes it all the more better to heckle. After I watched it, and to be honest, slept thru some of it, I noticed they also had a documentary on it that I'd wanted to see for some time. It's about the Scottish comic writer Grant Morrison. I'd read and enjoyed many of the series he's written like Animal Man, The Doom Patrol, The Invisibles, among a few others. He's a weird bloke for sure, you can pick that up through his writing style and from some of the fan press and back pages in some of those comics. He's interested in such odd things as conspiracy theories, nano-technology, aliens, sex, drugs, & rock and roll and all sort of weird, fringe stuff, and he channels that through his books. The documentary, Grant Morrison: Talking With Gods is still available for a free streaming over at Hulu if you're interested in giving it a watch as are the MST3K episodes.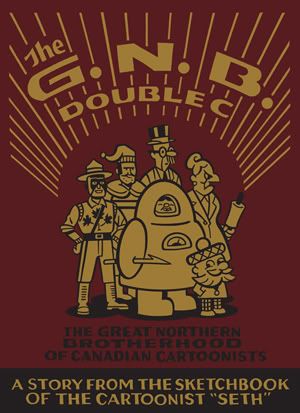 Sunday I watched a bit of the Houston Texan game, and read a bit. My brother gave me a graphic novel by the Canadian cartoonist, Seth. He started out doing these seemingly auto-bio comics called Palookaville And he's gone on to do some other books. His current ongoing series is called Clyde Fans, and the book my brother gave me over Christmas is a sequel to his Wimbledon Green book, which is a fiction character that is a tremendous comic fan and collector. I started reading the new book, The Great Northern Brotherhood of Canadian Cartoonist or The G.N.B. Double C is a sequel to the Wimbledon Green book in that gives a little bit more insight into some of the cartoonist that Wimbledon Green and other comic fans enjoyed collecting. Most of the storytelling is fictional in nature, but reminds me of some of the oddball comics from my childhood like Herbie, Hot Stuff or newsprint comic strips. Sometimes Seth will include some real comics or creators in his story as well like Peanuts or Doug Wright's little Nipper, but overall I think both books are sort of a nostalgic look back at comics and the remembrances of our youth.

Thinking back about the past year of 2011, I didn't read a huge amount of comics, but have enjoyed some of them. I read a few of the New DC books, like Batman, Detective, Superman, Animal Man, Swamp Thing, and for the most part they were fun. I don't know how "new" they are as Animal Man still has these animal powers that he uses and still has the same family. Batman has updated and gone more high tech, but really it's just a new writer's spin on things, buy hey, if you enjoy the DC universe, you'd probably enjoy them. I read the Daniel Clowes books, The Death-Ray, Mr. Wonderful, and Wilson. I'm a big fan of his, and enjoy them to various degrees. I think the two best books I read this year though was Peter Kuper's Stop Forgetting To Remember and Chester Brown's book, Paying For It.

Sunday I listened to the part one podcast the iFanboy.com best of 2011. They chatted about their favorite movies and television from 2011. This week in part two of the podcast, they discuss their favorite books, games, music, and comics, which I see is already up for downloading, so that should be interesting. I also watched some of AMC's Hell On Wheels marathon they were showing, while also keeping track of the Cowboy game.

I ran across another web site's best of comics from 2011, if you're interested in giving it a look, check it out: here.

Oh, and I was going to post this link on some cool books I found before Christmas, so I'll post it now. There are a bunch of cool comics, graphic novels, sketch books, and just all around stuff on there. Check it out, it's an interesting list. I gotta get up and snap into action.