Eight Debut Albums
I got an email from another blogger to contribute my thoughts about eight debut albums that I think are excellent albums and showed great promise from a band or musician, but never really quite reached that peak again by the band. In other words, that first album was their best effort. Music fan that I am, I'm certainly up for that challenge, but I really had to put on my thinking cap. I thought of several bands, but had to scratch them off my list for one reason or another. For example, I thought of Jimi Hendrix's debut album, Are You Experienced? It's a great album, and certainly foretold greatness in what else he might record, but personally I really preferred his Axis: Bold As Love follow-up album better, and argueably Electric Ladyland is much more the classic and mature. I also thought of Bob Dylan's first album and the Beatles, Meet The Beatles, but again, both had gone on to record much better albums, at least in my way of thinking. The first album I ever bought by Dylan was his John Westley Harding album, it's still one of my favorite records by him to this day. I also like a lot more by him like Blonde On Blonde, Blood On the Tracks, Nashville Skyline, and well as many others. I'm a huge Beatles fan as well, and just about like everything they ever recorded, so that knocked their debut off the list. I came very close to listing Eric Clapton's first album. It's still one of my favorites by him. There are a lot of rocking tunes on it, but I think that leaves out his work on Layla, and I have my days I really want to listen to some of his other efforts as well. That narrowly escaped my list.
So anyway, without further discussion, here's what I came up with.
David Crosby: If I Could Only Remember My Name
As you may know David Crosby was a part of the 60's folk rock scene being a part of the Byrds and later going on to form the band Crosby, Still, and Nash, (and later Young). With this album though, he got together with some friends and recorded this seemingly loose session of evocative, acoustic, introspective soundscapes. It's full of great songs and wonderful vocals like Cowboy Movie. If you've never heard it, go buy it today. You'll thank me later.
Steve Forbert: Alive On Arrival
Boy, this is a great debut album. I think at the time I read a review about it in Rolling Stone (back when they still used to be good, just kidding, kinda). At any rate, on his debut Alive On Arrival, Forbert sounds like an mix of early Bob Dylan and John Prine, crafting some amazing acoustic songs that are every bit as good as Dylan or Prine. His vocals are similar to both, and there's a playful, urgent feel to the album. Forbert didn't put out a lot of albums, and I think the record company didn't produce or give him as much attention as maybe they should have, and it's a shame as the debut showed a lot of potential.
It's A Beautiful Day--self titled
Out of the West Coast scene came It's A Beautiful Day. Now they weren't as popular as some of the other bands of the day like the Grateful Dead, Quicksilver Messenger Service or Jefferson Airplane, but they had two hit songs on the album that gave them a lot of airplay and exposure: White Bird, with it's lilting melody, and strong chorus, and Hot Summer Day. The album is a rare stew of psychedelic folk rock, and one I play often during the warm summer months.
Jo Jo Gunne--self titled
I remember walking into Discount Records up in Lubbock, Tx. the day this album came in, and was drawn to the rocking sound of it. The group had Jay Ferguson and Mark Andes in it from the California band Spirit. Now Spirit I was already a fan of, and I'm still a big fan of theirs today. Spirit had a weird mix of early progressive, jazz, psychedelia, rock, and even at times some moody soundtrack themes in their sound. But with Gunne, they'd dropped that, and moved to a more streamlined rock sound. Their other albums, have some moments on them that capture the energy of their first album, but I think their first album is their best.
Robert Early Keen, Jr.--No Kinda Dancer
This is a narrow call, but I still feel it's his best effort, and I say that not having heard every album Keen has released and he's still productive today, so he might even top this one, who knows? Still it's a fine crafted album of Texas roots music, bar room tales, ghost stories, folklore, and reminds me of some of the good times I've had living in Texas. Keen weaves excellent stories, and his vocals and arrangements really hit the mark on his debut.
King Crimson--In The Court Of King Crimson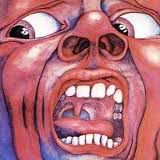 I'm a Crimson fan, and a progressive rock fan, so it's hard not to mention this one. It's a monster album, and one that set the stage not only for King Crimson, but progressive rock in general. Some may disagree with my pick on it, but for me, it's one of their finest efforts.
Moby Grape--self titled
Out of the San Francisco scene came Moby Grape, with a controversial cover and all. They were a mixture of folk rock and blues. I enjoy their second album, Wow, just about as well. But their first album is more cohesive.
PFM or Premiata Forneria Marconi--Per un Amico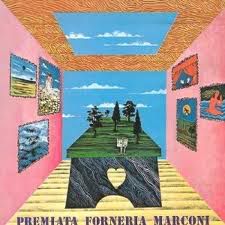 Wonderful album! I discovered this band late as they'd already made many albums. The first album I picked up by them was their album Cook on vinyl in a used record store. I wasn't bowled over by it on my first listening, but it was sort of a slow awakening and one that slipped slowly into my conscious over time. Later I started to learn more about the band. Certainly they have other albums that are worth owing, but for me Per un Amico is a masterpiece of subtle progressive rock. If you like mellotron passages like say the way the Moody Blues used them, this is a great one to seek out.