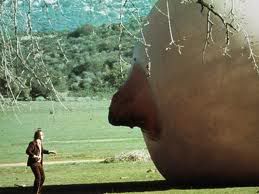 Well, our new Tyler, Tx., Breastaurant in now officially open. What's that you say? Yes, the corruption of youth, and defiler of children, Double D Ranch Grill & Bar, is now open here in Tyler. I can only assume now God will send down a plague of frogs, and then a flood. Brother, you wouldn't believe all the silly issues that this restaurant stirred up in our little non-progressive community. It all started, I think from a few random complaints to the city counsel that, Oh God, a restaurant by the name of DOUBLE D (get it), was going to be built right next door to the Toys R Us building, and Oh God, across the street from our high school. Toys R Us hit them with a restraining order, which halted any further work on the building, which was just about refurbished, and from placing up signage, etc., sort of throwing their little operation into limbo status.

They modeled the theme of their restaurant between a Hooters and something like a Buffalo Wild Wings, with waitress staff in skimpy ranch attire. If you look at the Double D site and once you get past the model strutting her picture for the first few photos, you see a group shot of what the staff will probably look like, something I hardly find offensive. I mean, sheesh, have these defenders of Tyler's morality ever seen how high school girls dress in warm summer months? Honestly I didn't know what the whole brouhaha was more about: the name, the dress, the location, or a combination of the three, but I find it all fairly insane and ridiculous.

Well, the complaints caused a news report, about a Breastaurant being built, or actually moving into the old El Chico restaurant building here in town. The El Chico shut down due to the suits at the corporate office, CRO, Inc. or Consolidated Restaurant Operations, Inc. (as far as I could trace ownership), thought there were too many Mexican restaurants here in town already, felt a slump in sales, and decided, perhaps they could sell more breast, I mean, burgers & fries, by changing the theme and cuisine to something different. So they decided on this sport bar, Hooters theme, thinking it might make 'em a few more pesos. Little did they know what they were getting into...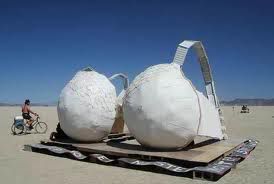 Well, after much haggling back and forth with corporate attorneys, CRO, Inc. vs Toys R Us, and the city council they finally agreed upon a compromise. They changed the name to El Chico Ranch or some nonsense, and changed a bit of the attire of the waitress staff, sort of covering up their jibbly bits as it were, and had to change their menu accordingly. Vice President of Marketing for CRO, Inc. said he was glad to reach a compromise with the Tyler community and Toys R Us, adding, "His hope is that El Chico Ranch becomes known as a restaurant "with great food with a Texas flavor and a very hospitable, friendly staff as it was planned to be," ahem, but very little titty.

So now that Tyler has this little bit of modernization behind us, can a Long Dong Silvers be that far behind?