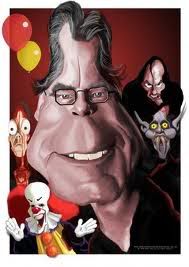 Just a little recommendation for the Stephen King fans out there that I just ran across, which will air early in October on the 3rd. I thought I better mention it now, otherwise it will get overlooked, and for me, it sounds like something I certainly want to watch. Though being on TCM, I would think it would repeat again, perhaps later in the month. I haven't checked their schedule yet for October, so I'll grab a recording of it early. In fact, being a fan of King, I just bought a copy of Misery on DVD with James Caan and Kathy Bates, along with The Stand and Pet Cemetery. Plus I have several other movie adaptations made from his books, and many of his books as well. It sounds like a good way to kick off October and Halloween, along with the Walking Dead that month. My brush with greatness: Many years back when King was serializing his book, The Green Mile, they originally came out in these smaller digest-sized books before they were collected into one larger volume. They were a neat idea, and I got interested in the story as well. In the back of the serialized editions, King had a content where he'd ask a question to the reader. The winner of the contest would receive an autographed copy of a part of the books. Well, I won one of those. I was a happy camper and really it made my day or week or whatever. I still relish it being a fan of Stephen King.

If you are into Christmas movies (and who isn't?), they'll spotlight a similar documentary in December called, A Night at the Movies: Merry Christmas! Here's the blurb I read from the TCM site: Turner Classic Movies will celebrate Halloween and Christmas this year with two all-new specials produced by DreamWorks Television and presented as part of TCM's ongoing A Night at the Movies documentary series. In October, TCM will premiere A Night at the Movies: The Horrors of Stephen King, with the master storyteller himself discussing the classic horror films that influenced him the most. And in December, A Night at the Movies: Merry Christmas! will take viewers on a magical journey through some of the greatest holiday films ever made.




TCM's A Night at the Movies specials are written, produced and directed by award-winning filmmaker and author Laurent Bouzereau (The Making of Steven Spielberg's "Jaws"; All About "The Birds"), with Darryl Frank and Justin Falvey (TNT's Falling Skies) serving as executive producers. The series began in October 2009 with A Night at the Movies: The Suspenseful World of Thrillers, followed in December 2009 with A Night at the Movies: The Gigantic World of Epics.

In A Night at the Movies: The Horrors of Stephen King, which premieres on TCM Monday, Oct. 3, at 8 p.m. (ET), Stephen King discusses how he discovered terror at the movie theater. He takes viewers on a journey through many aspects of the horror genre, including vampires, zombies, demons and ghosts. He also examines the fundamental reasons behind moviegoers' incessant craving for being frightened. Along the way, he discusses the movies that have had a real impact on his writing, including Freaks (1932), Cat People (1942), Invasion of the Body Snatchers (1956), Night of the Living Dead (1968) and The Changeling (1980).

A Night at the Movies: The Horrors of Stephen King will kick off an entire month of classic horror on TCM, with each Monday night's lineup packed with memorable chillers. The offerings include Universal classics like Frankenstein (1931) and The Wolf Man (1941), Val Lewton thrillers like Cat People (1942) and I Walked with a Zombie (1943), Hammer classics like Horror of Dracula (1958) and cult favorites from William Castle and Roger Corman, to name a few.

Coming in December is A Night at the Movies: Merry Christmas!. It will be a tinsel-filled journey through the most iconic holiday films of all time, including perennial favorites It's A Wonderful Life (1946) and Miracle on 34th Street (1947). The special will look at variations within the genre, such as holiday romances, family movies and even thrillers. A Night at the Movies: Merry Christmas will feature behind-the-scenes stories and personal Hollywood Christmas memories from the likes of Chevy Chase, Margaret O'Brien, Chazz Palminteri, Deborah Raffin, Karolyn Grimes, Zack Ward, Brian Henson, Joe Dante, Trine Mitchum, authors Julie Salamon and Alonso Duralde, A Christmas Carol expert Michael Patrick Hearn and many more.

A Night at the Movies: Merry Christmas will be accompanied by an entire month of great holiday films on TCM, including A Christmas Carol (1938), Meet Me in St. Louis (1944) and both the 1933 and 1949 versions of Little Women.