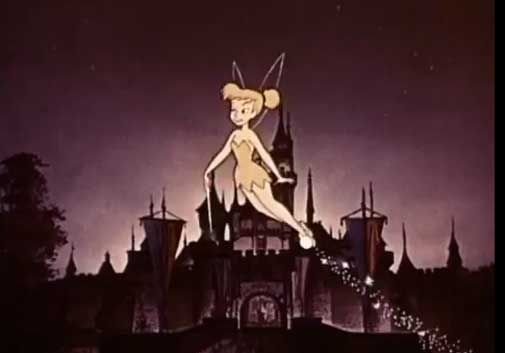 50 years ago Sunday, on Sept. 24, 1961, NBC revamped its prime-time opening lineup by presenting two new series whose titles are sure to bring a smile to anyone who watched them: The Bullwinkle Show, followed immediately by Walt Disney's Wonderful World of Color. Both these shows were acquisitions of sorts. Animator Jay Ward and his cohorts had been producing Rocky and His Friends as a cartoon series since 1959, but for ABC's weekday afternoon schedule. NBC brought it to prime time, where Ward offered several different supporting segments, but kept Rocky the Flying Squirrel, and Bullwinkle the Moose, as the opening and closing acts.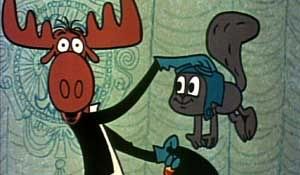 ABC, up to that point, also had been the network home of Walt Disney. His Disneyland prime-time series, largely a sly but effective weekly infomercial for his movies and theme park, had begun in 1955, and by 1960 had morphed into Walt Disney Presents.

But NBC lured Disney by pushing a technology that ABC, at the time, couldn't match: an all-color showcase. This was business, not altruism: NBC was vested in pushing color TVs, since its parent company at the time, RCA, manufactured them. The Bullwinkle Show, too, was in color on NBC -- so whether viewers watched Bullwinkle J. Moose or Mickey Mouse on Sunday nights, their world was a carousel of color. Wonderful, wonderful color...the only thing, at that time, my family had an old Magnavox black and white set. No matter, they were still a window into dreams, and how enchanting they were.

The new fall TV season is gearing up here in the states. I've already been watching the new Survivor season, and it's been pretty fun so far. The Walking Dead season 2 starts around Oct. 16th and has been showing ads on AMC, promising more zombie killing action, I'm looking forward to that. The Breaking Bad current season is winding down, and about over, but still remains a pretty excellent show.

Terra Nova premieres Sept. 26th--sort of a Jurassic Park knock-off from the looks of it, but since I like dinosaurs, and SF, I'll give it a watch, and hope for the best.

On Oct. 5th--premieres something that looks interesting called American Horror Story on the FX channel, don't know much beyond that, but the trailers look interesting enough for me to check it out.

If you're in UK, (I don't have cable access for it), however, read about a horror series called Bedlam--might be worth checking out.

Last night, Friday on Fox, looks to be the new slot for Fringe, and I've enjoyed this SF series so far, there are high eps. and a few spotty episodes, but overall fills in my X-Files missing piece.

Ringer, stars Sarah Michelle Gellar in double roles, but I missed the first episode, I really dug her in Buffy, however. Anyone see this?

The Playboy Club--premiered last Monday night, but interfered with the usual stuff I normally watch: American Pickers off the History Channel, which is showing new episodes, I still enjoy it, so I miss The Playboy Club, but appears to be a Mad Men knock-off in mood, and time period. Bunny costumes, can't be bad, right?

The X Factor--Simon Cowell, sorry I can't go there.

So you checking out any of these or are you into something else?