I'm currently reading the first book in the series of Doc Savage written by Lester Dent, who used the pen name of Kenneth Robeson as well. It's a pretty interesting read about a sf-oriented pulp-hero who is portrayed as being superhuman in someways predating super heroes. Even though Dent/Robeson alludes to Doc Savage as the Man of Bronze, having bronze-like hair & a bronze-like physique, I've yet to find much as where he struck upon that idea, but perhaps it is just his way to emphasis the character as being hyper normal--writing about how his physical and mental abilities are far above most normal people. Doc Savage also works with a group, sometimes known as the Fabulous Five, some of which are physically strongmen while others have scientific minds or experts in certain fields like geology, electricity and so forth.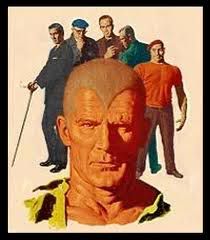 There were 181 novels in Doc Savage Magazine and at one point producer George Pal announced that he hoped to film them all, but this, based on the first of them, was a flop. Unfortunately the film decided to go for the camp angle similar probably to the 1966 Batman TV show of the time (bad move, at least for me personally). I've never cared much for campy, over-the-top films. I prefer a more serious tone or at least a tone that meshes with the books. I won't lay the entire blame on the director as Hollywood is such a circus at times, but some of the blame I think is warranted. Certainly there was a bit of camp during certain runs or eras of the Batman comic book, with garish contraptions and villains, but there's a lot of straight ahead adventure as well. So for me the best Batman films were the last two: Batman Begins and The Dark Knight played by Christian Bale.

At any rate, the first Doc Savage book starts off in a whirlwind of adventure high atop a scaffolding of girders on an unfinished skyscraper as a red-fingered villain spies through his binoculars into the eighty-sixth floor of Doc's sanctuary. The story opens with many questions: Who is the guy with the red-tipped fingers, what happened to Doc's father who recently died, who is this man of bronze that seems super human, and so forth so much so that the reader is flung headlong into the story. So it's been a fun read.

I've read over the internet that there's possibly a new Doc Savage film in the works. I say possibly because who knows if it will ever get made or shown? But I thought I'd post a link in case you are interested as they have certain actors picked out to play some of the roles like Doc played by Jason Statham. I'm not a huge Statham fan, I'd prefer to see maybe Dwayne Johnson in the title role, but the other characters picked out for the Fabulous Five seem like pretty good picks: here.

Last night there wasn't a lot on the tube, but I watched a bit of The Amazing Race while I made some supper. I finally picked out a movie to watch called The Iron Giant. It was a Disney animated film. It had older animation (not the Pixar style), but it went well with the 50's setting about a young boy growing up in Maine, who finds a giant robot that has crash landed on Earth. He soon befriends the giant, only to have to hide it away from the military who fear and want to destroy. The film reminded me of the original movie, The Day The Earth Stood Still, and some of the other 50's SF films of that age. It also reminded me of growing up through that era. If you enjoy animation or Disney it's worth a watch.