I just got back last weekend from the Dallas Comic Con. Yep, that's me by the Tardis. It's been a while since I've been to any sort of convention of this type. I think the last one my brother and I attended was in the early 90s when we went to the San Diego Con. I also didn't know that this Con was the same one that was previously put on at the Plano Convention Center (turns out it's the same promoter).

At any rate, it was sort of a mixture of boom or bust for me. I enjoyed it for the most part, but I think overall I expected more. Having said that though, I did enjoy myself. As I've said the same promoters that previously held the Con in Plano decided to move the Con to Irving. The facility in Irving is a new building, so it was nice and clean, but there were a few things I didn't like about it. For one, they were doing all sort of construction around that area, so we had to find alternate routes to the site. Once there, the main parking (which I think was inadequate to begin with) was gone, so that meant there were two other lots to pick from. The first high-rise parking lot had a large queue of cars already backed up, so we decided to go further down to the next lot, where we found a park pretty quickly, but we were about a mile or more from the convention center. A little walk never hurt anyone, but it was looking rainy that day, and we hoped it wouldn't come a downpour.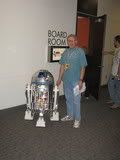 Once we made it to the event, and purchased our tickets, we made our way inside. They were pretty crowded, which is a good thing for the promoters, but I think the facility wasn't large enough for the turn-out. I can't imagine this Con growing any larger because the building would be inadequate for the fans and venders. Actually when I walked inside I noticed the general area of the place seemed smaller to what the Cons were during the mid-80's and other Cons I'd been to. As we entered the crowd could barely move around, creating sort of gridlock. I noticed several boxes of twenty-five cent comics in that area, which may have been the reason, I thought about thumbing through them, but quickly dismissed the idea due to the crowd. We finally got out of that area, and just sort of walked around looking at who was selling what, and just the overall layout of the area. The place was pretty packed, but we both had cell phones, and decided, we'd look around on our own, and meet outside in the concession area or back upstairs at one of the planned discussions.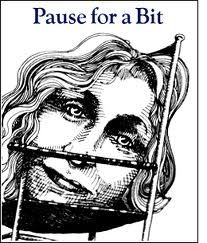 (I just went back to the other part of the house, so I could jog my memory about certain things. I dug around in some boxes of past fan memorabilia to find some of my older programs of the past Cons I've attended. The first Comic Con I attended was back in November 1988, and was called Dallas Fantasy Fair. Whoever was sponsoring those did it for many years, up to around 1993 or so. The show in 1993 was the last DFF I attended. I think they continued on with them for a year or so, until the sponsor, from the rumor I heard, made off with the money and didn't pay his debts. So that was the end of the DFF.)


I had some other friends from Sherman, Tx. that was attending as well, and we'd sort of planned on meeting (if possible). They called me while we were still hustling a place to park. We were wanting to meet up somewhere at the Con, but it just didn't turn out that way. I know they'd gotten up very early to get there on time, etc. Perhaps we'll meet at some other time or place. But we did chat on the phone for a bit here and there. Mike said he went to the John Westley Shipp and Amanda Pays forum, they were on the Flash TV series of several years back. They've since gone on to play other roles in their careers.

At any rate, my brother and I split up. I sort of roamed around looking, and really wasn't that impressed overall with the vender tables. They had the general milieu of collectible items: models, action figures, comics, photographs, bootleg DVD type stuff, and so on. I found an interesting (cheap) vender that was selling comics three for a dollar, and started looking. At least at his spot it was navigable. It turned out the guy that had that set of tables was the same owner of Titan Comics, the main big comic shop in Dallas. Ha. So I looked around in his long boxes and found a few things.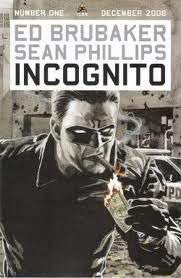 I found a couple of Incognito comics on Icon press by Ed Brubaker & Sean Philips. They are sort of pulp inspired comics, which I know I'll enjoy reading. What impresses me about Incognito is that it's 22/23 pages of story and art, without one ad. That's amazing for these days! Also at the back there's an essay by various people. In issue #2, which I picked up, the essay is by Professor Jess Nevins on the aviation pulp, G8. I also found an Incognito #4, and in the back of that Nevins discusses Nick Carter, who he says was the original superhero, apparently. Who knew? I haven't read either of these issues yet, but I'm already looking forward to it, and hope I can find some more.

I'll wrap up with part 2, of the Con in a day or so. Stay tunes.