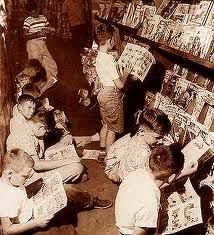 Hey Kids, Comics.

Here are some more rather interesting online web comics. They are free to read so check them out.

This is Zot, Scott McCloud's comic from a few years back. You can navigate it in a couple of ways. The link starts with the first chapter, which makes sense. He also wrote, Understanding Comics and has been around for years. Zot is light science fiction, and a lot of fun too: here.

Here's another way to navigate Scott's web comic in chapters: here.

And this spot, also has some random stories by McCloud: here.

John Byrne, has returned to writing the comic Next Men, and has a neat site and a comic I've never heard or read before called You Go, Ghoul! You can see his site: here. And the web comic begins: here. Byrne has been around for a long time, and worked on everything from X-Men, Fantastic Four, Superman, The Incredible Hulk, to you name it.

Demons of Sherwood Forest is a Robin Hood story that takes place after the original novel ends many years later. Robin Hood has turned into an alcoholic and is brought back to his senses when his help is needed. Bo Hampton does the art, and Robert Tinnell does the story, and boy it's nice :) Go here.