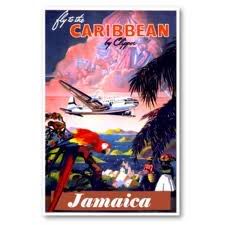 Back around 1978 I walked into Endless Horizons, the locally-owned record store in Odessa, Texas, and they were playing this reggae album that immediately clobbered me over the head with it's intoxicating melodies, recurring rhythms, and exotic appeal. The album was Kaya by Bob Marley and the Wailers. I bought it that day, and during that summer played it over and over, and became a Bob Marley fan. Later on around the same time frame my brother and I flew down to Jamaica on a vacation and it was a nice laid back trip. It was easy to unwind, and let go of the hustle and stress that most jobs seem to entrap you. We flew into Montego Bay airport, and were whisked off to our hotel room, which was fairly sparse, but clean where the balcony overlooked the ocean view, and the winds blew a sea breeze into the room. Ever since then I've enjoyed my share of Bob Marley music, and also some other reggae bands, and also a few offshoots of that style like dub or ska. I was looking around on a music forum about dub music, which I'll admit, I don't know a lot about other then its close association with reggae, other than dub uses a lot of echo. The main definition might be like this:

Think reggae with lots of heavy reverb, piano, echo and other effects both vocal & instrumental, creating longer and often more instrumentally based tracks. Dub in itself isn't a type of music it is more a treatment that is applied to any of the styles of reggae.It originated in the dancehall culture of the late '60s in Jamaica with DJs adding loads of bass and other effects to create dancehall versions basically, and dub versions in the studio.

So you can find dub versions of insturmental ska tracks, of rocksteady tracks, of heavy roots tracks, of reggae-soul tracks, of dancefloor, of techno-reggae and many instrumental tracks of all reggae styles. There's even a reggae and dub version of Pink Floyd's Dark Side of the Moon album, and a treatment for Radiohead as well. The recent trip-hop is sort of a hybrid of it as well.

A good place to start if you want to compare roots with dub is Burning Spear's 1975 album Marcus Garvey, which was followed in '76 by Garvey's Ghost, which is a dub version of the roots on the previous album.

At any rate, if interested in checking out some of this type music, I found a site that provides some podcast of it. You can download free MP3 files of it, and listen to them over your media player or burn a CD. Click on the link that says: Information and track listing. There you will see what musicians are played on that particular program, and a link to download the program. Here's the link: here.