I went out to a few garage sales starting on Friday. This past weekend they had the Highway 80 Garage Sale, which I'd never heard of in West Texas. I think it begins in Dallas around Mesquite, and goes east along Highway 80. I debated on whether I wanted to go looking or not. So instead of doing that, I just looked around in the newspaper and found a few garage sales here in town that looked sort of interesting. The first one didn't have much to look at, but I was over near a pawn shop I go in from time to time, so as long as I was in the area I went by there.





I found the first season to Babylon 5 in there for ten bucks, so I was happy to have found that. I'd been wanting a copy of this SF television series from a few years back for a while now. I'd taped nearly every episode on VHS tape back when it was airing, but wanted at least the first season on DVD. It's about several races of aliens aboard a space station and the politics, smugglers, terrorist, and interactions of all the races that inhabit the station.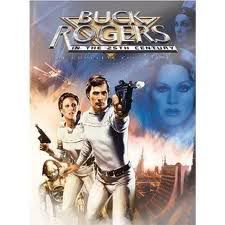 Also recently I bid and won a copy of the complete epic series to Buck Rogers In the 25th Century. I remember a little bit of these back in the 70's when they originally aired. I didn't care that much for them then as I wasn't too big a fan of Gil Gerard the titular character. But as time has gone on, I've found that some of these older SF series like Buck Rogers and Battlestar Galactica appeal to me now. For one, they don't make 'em like this anymore, they might be sort of cheesy, but at the same time charming (if you're a SF nerd like me), and are fun to watch. Plus being on DVD the picture quality is so sharp it brings a new dimension to the series. I watched the theatrical pilot this past weekend and the next episode after that as well. I was surprise to find Jack Palance starring in this episode as a charismatic cult leader of a race of people who had these odd powers allowing him to kill you if you opposed his will. Fun stuff.

After hitting the pawn shop, there was one other garage sale I went by on the way home. The ad said: hundreds of albums, so that piqued my attention. I drove by the place and looked out the window, and saw a young mom and dad sitting around on blankets minding their three young boys playing in the yard, but no vinyl. I drove around the block, and up along side their house, and got out, and asked the guy about the albums, and he said, "We don't have any." Which I thought, heck, I guess someone came by and bought out the entire thing--it wouldn't have surprised me as a lot of people collect old vinyl. I sort of inquired a bit further as to what happened, and he said they were his wife's mother's albums, and I take it they held sentimental value for them. But at the same time, I thought, well, I wish you'd have thought about this before you placed the ad, and I never would have wasted the gas and time to drive by. So I chatted with them for a bit and drove back home letting them enjoy their weekend, and me mine.

I caught the movie Jean-Michel Basquiat: Radiant Child off Independent Lens last week on PBS. Really interesting movie. He was a contemporary of Warhol and that Pop Art scene, which is one of the fun movements in art I enjoy. It had interviews with him and other people that knew him. He died at a rather young age. It also showed him painting and had a lot of his art work to look at as well. Interesting film, if you enjoy that sort of thing.