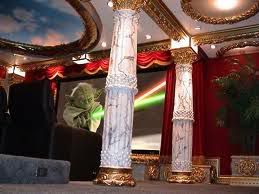 I love movies, so I thought I'd do another movie update of the films I've seen lately and enjoyed. It seems more and more, that movies these days are more concerned with the teenage crowd, demographics, etc., and that's fine to a degree as I know teens are about the only ones actually going to the theater anymore. (I hate to show my age, but I think the last thing I actually went to the theater to see was Avatar. So it's been a while.) It seems producers and directors consider film making more as a cash cow and a way to generate DVD sales or some way to package a trilogy or series anymore. I think they also speak of this in terms within the biz as a tent pole picture, which we used to refer to as a summer blockbuster. But I do like some of that, and I like watching older films too, so I guess it's all good to a degree.




I think The Fighter was one of the more recently made films that I saw and enjoyed. Taken from a true story about two half-brothers played by Mark Wahlberg (Dicky) and Christian Bales (Mickey Ward). Mickey used to fight in the ring, and has as his claim to fame knocking down Sugar Ray Leonard during one of their matches. He has seen the limelight, but also his better days, and has now fallen into heavy drug abuse. Amy Adams plays Dicky's tough-minded girlfriend who helps him get on the right path, away from his dysfunctional family, and connects him with the right trainers and promoters to build his career. Some things are harder to change in life particularly when it comes to family ties, however.




The Hill (1965) starred Sean Connery, Ossie Davis, among others and directed by Sidney Lumet. It takes place in WWII at a British military stockade. Connery, Davis, and two other soldiers have been taken prisoner and are being punished or rehabilitated for their various crimes. The hill is part of that process as they have to march up and down it as part of their tough discipline. The sergeant that oversees them is a cruel unrelenting man. The story is a morality play of sorts, which brings about many questions concerning war, discipline, right versus wrong and so forth. Sidney Lumet also directed the drama 12 Angry Men, and there's a similar tenseness to this film as well. There were also aspects of The Hill that reminded me of the film, Cool Hand Luke as well.

Me and Orson Welles--was a period piece directed by Richard Linklater. Taking place around the 30's in NYC, one of the main characters, a high school teenager named Richard meets the rising temperamental director, Welles, and gets to star in the soon to be shown Shakespearian play, an update version of Julius Caesar. But fireworks erupt over certain aspects of the play and also over a lovely assistant, which both seemed to be attracted to (even though Welles is married). The actor portraying Welles did a rather excellent job, and I enjoyed aspects of the film like the soundtrack and era in which it was depicted, but didn't care too much for the excerpts of the play itself. The device of having a play within a film have been handled better in other films I've seen like Shakespeare in Love and Waiting for Guffman, and really I'd recommend either of those films first.