I didn't do a lot on Sunday, but that was okay. I enjoyed just relaxing on Easter, reading a little bit, and pecking around on the computer. I went out side for a bit to water some new tomato plants I'd planted the other day. I'd noticed one or two looking pretty droopy, and I guess you have to water them pretty much every day so I soaked them along with some of the other plants around the house for a bit. Continuing on with the movie theme I'd started on the previous post. Sunday night I watched part of The Amazing Race, and then decided to watch The King's Speech.




I really enjoyed The King's Speech, which isn't too much of a surprise as it won a lot of critical acclaim and also won many Oscars for best picture, best director, and Colin Firth also won best actor as King George VI. It also starred Helena Bonham Carter, Geoffrey Rush, Guy Pearce, and others. The historical drama is about the Duke of York who becomes King of England at the onset of WWII, but has a speech impediment. Geoffry Rush plays his therapist, who befriends him and helps gain confidence in himself to overcome some of his stuttering. Helena Bonham Carter plays his wife. I've enjoyed her in various roles ever since I saw her in A Room With A View, a Merchant Ivory picture from many years back. She seems to pick good roles and does a pretty solid job no matter which character she portrays, and they have gotten pretty broad in scope from a Death Eater in Harry Potter, to romantic and historical figures, to odd characters like the one she played in Fight Club. At any rate, there's a lot to like aside from the plot and story in The King's Speech. The pace starts out a bit slow, but picks up when Firth and Rush meet. Everything from the story to the costumes, the set designs, cinematography, soundtrack, and direction worked for me. A pretty recommendable film.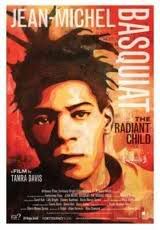 Jean-Michel Basquiat: The Radiant Child was a documentary on the NYC pop artist, a contemporary of Warhol and others during that movement. I enjoy this type art. I can see where others would have a problem with it. Basquiat also had emotional issues with his father or perhaps other issues with life (no less gaining fame at an early age) which led to heroin abuse. He first became famous for his art, then he became famous for being famous, and then he became famous for being infamous--a succession of reputations that often overshadowed the seriousness of the art he produced.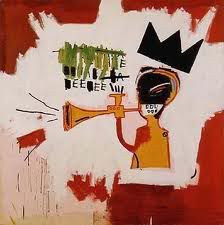 I like Pop Art. I like how there's a certain whimsy to it, also there's subject matter about the modern world sometimes contained within the imagery. I guess a common complaint or observation I hear is: My kid could paint that or I could paint that or whatever. The thing is, they never do. Basquiat's career divides into three phases, each characterized by a shift in style, subject matter, and reference. In the earliest, 1980 to 1982, he used painterly gestures, often depicting skeletal figures, masklike faces that signal his obsession with mortality, and imagery from street existence like building, automobiles, signs, and graffiti. His mid-period features stretcher bars that extend from the canvas, dense writing, collage, and seemingly more random imagery. They also reveal Basquiat's black and Hispanic identity with other historical and contemporary black figures from musicians to fighters and so forth. The last phase up to about 1988, displays a new type of figurative depiction, in a new painterly style, with different symbols, sources, and content.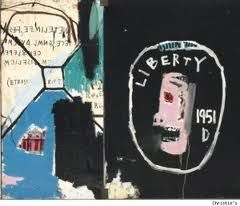 At any rate, it's an interesting documentary if you enjoy that type thing or that art style. It shows a lot of his work, and interviews him and shows him as he paints a bit. All in all I found it interesting, and wouldn't mind owning a copy of the DVD.