I got out for a bit yesterday. I ran by Lowe's and picked up two particle boards for some shelving that I needed for my record collection. I got a wild hair and decided to rearrange my vinyl collection. It's been needing it for a while now, I've just been putting it off since my move. I forget what prompted me. I think it was the recent Eight Debut albums blog posting, and watching the Rush documentary that put me in the mood. So I started that, and in the process picked up some pre-emergent herbicide for the lawn. Spring is coming on fast here in East Texas, and I thought I better get it prepared for some of the weeds, plus we have some rain in the forecast. I wish I had bought some Azalea food as I have some Azaleas around my house. Tyler is proud of their Azalea trails, they are also the rose capital. I don't know if that's the rose capital of Texas or what, but anyway, we're the capital. So I need to go back to Lowe's and buy some of that Azalea fertilizer. I knew I should have bought it while I was there--I hate doing double trips like that, it's a waste of gas and time. But so goes life. While I'm out I can get a newspaper and stop by Hastings for their monthly County Line magazine. It's a freebie guide to music and events around the East Texas area.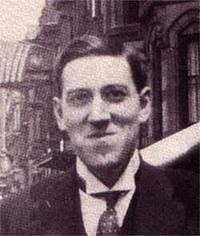 Later on I ate supper and watched a few episodes of The Office. I don't know if I'm a true fan of the show, but I enjoy catching a few episodes here and there. It's one of the few current comedy shows that makes me laugh. I enjoy the King of Queens too. After that I was looking around on the computer and found some rather interesting podcasts on H.P. Lovecraft. The creators of the show, Chad Fifer and Chris Lackey take a Lovecraft story, and they'll have someone read a part of it with cool sound effects, and then they'll comment on that part of the story. I listened to episode 65, which was The Dunwich Horror since I've read the story and have the Dean Stockwell/Sandra Dee story as well on DVD. Plus sometime back a friend even gave me a used copy of the Heavy Metal issue devoted to H.P. Lovecraft, which contains a comic adaptation of it as well, which is a cool issue if you can track it down. At any rate, if interested in H.P. Lovecraft check out these podcast, they are located: here.

The same guys are also working on a pulp-like comic which you can also preview at their site, called The Deadbeats. They have a four-part, pulpish animation up over on Youtube, which I watched and enjoyed. It's called The Investigators. Here's the link to that: here.