Friday I went by the Tyler library sale. It was held in the auditorium in the same building as the library. I was surprised as they had more stuff than I thought, but I didn't walk away with a lot stuff either. That's fine as I don't need to be bringing home much anyway. However, I still like to browse. They did have some beat up, fairly worn out vinyl albums, quite a few books on cassette, some VHS, and books to look at. It seems like most places they are trying to reduce and get rid of obsolete media. I know as a vinyl fan, I don't like to think of it that way at times, but it's pretty much true, and the same goes for VHS and cassettes. I still enjoy my vinyl and still have a lot of stuff on VHS, but who knows how much longer in the future if your players that play them breaks you'll be able to find a replacement for them, and will it be worth the effort? I guess eventually they'll go the way of the dodo like everything else. I then ran by Hastings as I was out and about anyway, and ran across a hardback book on Jack Kirby, called Kirby: King of Comics by Mark Evanier.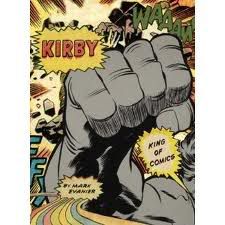 Evanier has written for Comic Buyers Guide for years and used to have a column in it called POV or Point of View, where he'd write about various topics. He also became a friend to Kirby and his wife, Roz, several years back assisting him on some of his work. At any rate, I guess they struck up a close friendship enough for Evanier to do this book on him. It's pretty cool too as it's one of those coffee table books, which I'm a fan of anyway as it allows the art and graphics to really be showcased. I've already read about how Kirby got tagged with the King of Comics by Stan Lee, and how he humbly didn't really care for it, as he didn't think he was any better than any other cartoonist at the time. There are a lot of stories in it, so it should be a fun read.

When I got back to the house, I ate a bit, and got on the computer and did a bit of searching on chainsaws. I have two electric saws already, but need a gas powered one for areas that the extension chord won't reach. Plus a gas saw would just be more practical and easier at times. I decided on the Stihl saw after comparing a few reviews. I had bought one of their leaf blowers last year and had pretty good results, so hopefully I will with the chainsaw as well. It was getting late in the day, so I thought I'd just wait and get out sometime on Saturday and run by one of the stores here and take a look at them.

I got up Saturday and drank some coffee, ate some breakfast, and did the normal routine, and went online to find out where this hardware store was at in town. It was on the opposite end of town, but I thought I'd give it a try. The place that I bought my leaf blower at was in Whitehouse, a town nearby, but I thought I'd try this other place thinking it might be closer, not that Whitehouse is that far off (really after comparing the drive time, they are about the same). When I get over to Ace Hardware, I noticed that there weren't many cars in their parking lot, and the building was a bit rundown, so I already had second thoughts. I walked up to the door and noticed the closed sign! Sure enough, I checked their hours on the door, it said: Closed at noon on Saturdays. Wow, I'd have thought that to be one of their better selling periods, you know, since everybody is generally off on the weekend, but hey, whatever works, right? So I get back in the truck and drive over to Whitehouse (where I should have gone to begin with). I like that store as the people there seem to care about their customers, check it out what you are buying, gas it up and demonstrate it for you, and show how to operate it a bit. Plus like I said, it's only about five minutes from Tyler anyway, so no biggie.

By the time I get back from that, it was time for supper nearly and I ate. I'll check out the chainsaw though in due time. While I was over at the library, I looked over their DVDs, and checked out the Smothers Brothers Comedy Hour set of the Best of Season Three.




I used to watch these back in high school. They informed my political awareness as a teenager, and I enjoyed their variety of music, folk, humor, politics, and so forth. I grew up in a fairly small, fairly removed part of Texas, no less anywhere else. So this show was like a window of pop culture and what was hip at the time. The Smothers Brothers were on around 68/69 when Nixon was president, and stayed in hot water due to some of their political jabs, sometimes crossing over into religion, and other areas that didn't sit well with critics, middle America, and so forth, and were canceled later on because of it. It's funny now though in retrospect as it seems so tame, when compared to prime time television and shows like South Park for example. At any rate, it's been really fun to get to see these shows again, and revisit some of the performances by Kenny Rogers and the First Edition, Donovan, Dion, the Pat Paulsen for President stuff, some of the early performance by comedians like George Carlin and others. It's really a time capsule of that time.