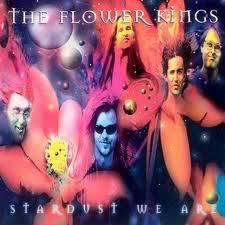 Describing the Swedish progressive band, The Flower Kings CD, Stardust We Are, is pretty hard because they all are broad in scope, dense, subtle and have a grand sweep to them. They cover quite a bit of ground, fitting into all sorts of categories. In short, I really like Stardust We Are, and it may be their best effort, among many of their other fine releases. If you are drawn to bands similar in vein to King Crimson, Yes, ELP, or Genesis just to name a few, then more than likely, you'll really enjoy this band as well. Even though the TFKs are influenced by many of the top prog acts, they are by no means a watered-down version of them.

Stardust We Are is a two-CD set. The first CD is a bit weaker than the second, but there's more than enough material on it to warrant listening to over and over again. With "The Eyes Of The World" they start out with a sort of rave up jazz number. One of the first things you'll notice is the full use of keyboards supplied by Tomas Bodin, and the excellent guitar work from Roine Stolt, and the other band members are excellent players as well. But rather than any one player standing out in showmanship fashion for too long, TFKs pretty much are integral in their sound, giving each member room to express themselves. On the first cut alone they undergo many tempo shifts, different textures, wonderful melodies, and so forth.

"Just This Once" is a song about a father talking to his son about the wiles of the world, and how a person can change the world, no matter how small or insignificant they may feel, and how men of power come and go. I love how parts of this song contain the jazzy sections. One may also note that TFKs music has a rather fantasy feel to it like Yes or the Moody Blues at times. "Church Of Your Heart" is perhaps my favorite song on this first CD with its uplifting message of believing in oneself, and for the harmonies that it contains. "Circus Brimstone" has a slightly more darker edge to it, with the opening drums and mellotron beginning, and shifts midway thru into an almost Anglagard section. "Compassion" ends the first disc on a somewhat bluesy feel with its ideological ode to rising above evil. I might add here that the FKs lyrics tend to be open-ended or maybe even, applicable, allowing the listener to apply whatever references one wishes to glean from the songs.

The stellar second disc begins with an amazing Bach-like pipe organ fugue (which was pretty jaw dropping for me), you'll also note that Bodin introduces us to a melodic theme, "Stardust We Are," which is the last song on the disc. Actually this theme will crop up again throughout this disc, like on the song "If 28." "The End Of Innocence" reminds me of something pretty Crimsonesque, even the vocal reminds me a bit of John Wetton--a great song with its soulful touches on guitar by Roine and mellotron fills. "The Merrygoround" is more Yes-inspired with its chops on guitar that sound similar to what Steve Howe might have done with its odd time signature and ending with a nice guitar lead by Stolt. "Don Of The Universe" continues on in a nice mellow vibe beginning on acoustic guitar and makes use of a sitar/slide effect. Other highlights from the second disc are the reggae tinged "Ghost Of The Red Cloud," and of course, the twenty-five minute opus, "Stardust We Are," which really just has to be heard as words fall short. All in all a great album.