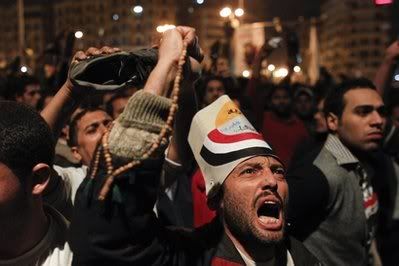 Uh, yeah, and now first the news. In Egypt today, President Hosni Mubarak finally stepped down, after a lot of carrin' on and lots of crazy stuff, with circles and arrows and a paragraph on the back of each one. One reporter announced you could hear large groups of Arabs singing in the street, "I ain't nothing but tired, man I'm just tired and bored with myself, You can't start a fire, you can't start a fire without a spark. This gun's for hire even if we're just dancing in the dark" by Bruce Springsteen. When asked if that was a just a little bit strange, all he could say was, uh, yeah, I guess...well after all we've been through, we can stand to rock a little.




I got a headache later on in the day. I don't know what trigger that. It's a bummer though. I think it started coming on after talking with the dadgum gal that works for my online broker. Man, I don't know what it is about her, but she drives me nuts, and let me tell you, that's a pretty short road. At any rate, I think she basically checks in with me, sees how I'm doing, if I have any questions, and I think her intentions are meant well, still I don't care to talk to her. I'm not the type person that enjoys being mean to people, but dang, have you ever had a headache and tried carrying on a conversation about stocks or whatever? I just wanted to be horizontal to tell you the truth.




Anyway, I'm watching Forrest Gump, I like it. It's sort of a silly movie. I remember when my Mom told me about going to see this film. I asked her how she liked it and she just went>>It just din't make any sense....

Here's some films I've seen this past week, either in parts of or all the way through, and enjoyed most of them: Finding Nemo, very colorful, neat Pixar.

It's been cold here so might as well stay inside and watch some movies. TCM has been playing a lot of good ones lately due to the Oscars being around the corner. I started reading this French comic called Monsieur Jean by Philippe Dupuy & Charles Berberian, http://www.drawnandquarterly.com/shopCatalogLong.php?item=a44358056..., which I enjoyed and was like one of those things that surpassed the material, and I wondered what Mr. Jean was doing currently until I realized that he was a work of fiction. At any rate the installment I'd been reading was the one where Mr. Jean & wife have their first kid, and takes place in NYC and then Paris. It got me in the mood for something like:

Breathless: Jean-Luc Godard, new wave, I didn't know if I'd like this or not, but did.


Red--the third installment (Blue, White, then Red) by Polish director, Krzysztof Kieslowski. I really enjoy all three of these films, and great cinematography.


La Battaglia di Algieri--realistic portrayal of Algiers revolts against the French foreign legion, didn't know if I like this, but it drew me in pretty quickly too.

Z--didn't get to watch all of this, as I had some other stuff to do that day, but also worth a watch. It was about a political assassination.

Kramer vs. Kramer--Hoffman and Streep are always pretty watchable, I think this film has aged somewhat or for me, not one of my favorite by either of them.