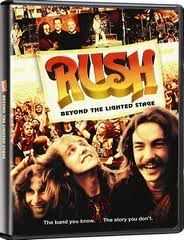 Rush: Beyond The Lighted Stage


Rush: Beyond the Lighted Stage, is a new two-disc documentary set on the Canadian band's long 40-year career. The first disc being a retrospective of their beginnings going from unknowns straight out of high school to their playing in high school gyms with their original drummer, John Rutsey, to finally getting their first record contract, and showing how their music and life progressed from there. I'm not a huge Rush fan myself. I'm not saying that as some backhanded comment, but to underscore the fact that no matter how much you may like the band or even if you don't care for them very much, you won't pass up an opportunity to watch the film as I think it offers something regardless. I've owned a few of their albums in the past, however, I believe the only thing I have by them currently is their album, Moving Pictures. That said though, I think the film has broad appeal to most music fans whether you are the most avid die hard Rush fan, to just a music fan in general, or perhaps you've just enjoyed their occasionally hit songs on FM radio. But certainly if you are a Rush fan, you'll want to own the disc.

It begins with them in high school, and tells where their families came from, and how they met each other in school. They have some very early black and white footage of them playing live in small venues, and even has a family clip of Alex Lifeson telling his parents around a dinner table that he wants to quit high school and play in the band instead of finishing school. Once they record their first album and start touring, things start happening fast and furious. They were one of those bands that traveled around the country playing around 200 plus gigs per year, all the while writing, learning, and recording their next album, so their discipline and drive is apparent. They talk about how they changed drummers early on, and how they started to incorporate Neil Peart into their band. It all seems pretty whirlwind, and yet organic at the same time. They commented a little bit about each album that they recorded, which ones were better sellers, which ones the fans enjoyed best, how they were dogged by their record company to change their style and become more radio friendly, and which albums were more of a challenge. There's also many interviews and comments with other fans and musicians like Gene Simmons, the comedian Jack Black, Billy Corgan, managers, and others that shed light either on their own admiration for the band and their insight of their career or how they were influenced by the band. All in all it's a well balanced history of the band. The second disc contains more archive footage of the band from different dates and locales, and more fan comments. I really had fun watching it and I think if you are the least bit curious, you'll probably enjoy it as well.