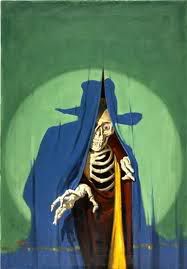 Here are some old time Shadow radio shows, that either you can listen to online or download and listen to them over a media player of your choice or however you listen to your favorite podcast, etc.

http://www.archive.org/details/RkoOrsonWelles-TheShadow-RadioRecodings

I bought a Sansa media player from Best Buys not too long ago. I think it has around 4 gigs or some such. At any rate, you don't have to use iTunes or any of that with this player, but I imagine you can use that site if you want to--I just chose not too. It's not political or anything, and I might at some point take a look at it just for storage. I just haven't done so yet, as I just didn't want to learn something else new over the net that's going to take a learning curve. I just wanted to put some stuff on my new player to listen to. The Sansa works good for that. You can rip your own CDs or listen to Podcast, there's a radio in it too, so it fit my needs pretty well. I really just wanted something to take on the go, and also have something to listen to whenever I'm out walking getting a bit of exercise.

You can download things from other radio shows, and there's quite a bit of that out there, which really is great if you're into that type thing. I sent a recent radio podcast to some friends of a show off NPR called Think. The show's host, Krys Boyd, has an interesting mixed show with wide ranging topics. The topic that I sent to a few friends was one she'd featured recently about astronomy. She talked with David Baker, Chairman of the Physics Department at Austin College and co-author of "The 50 Most Extreme Places in Our Solar System" (Belknap Harvard, 2010). He'd just written a book on the subject and talked about many of the more unusual facets of our solar system. The podcast to that can be found here: http://www.kera.org/audio/think.php

At any rate there are tons of things like that on the net you can download free of charge and listen to or download for later while you're out and about town or commuting in your automobile. Sure makes the time go by faster at times.

Aside from the Think program, I like listening to the iFanboy podcast on comics: www.iFanboy.com. There are other comic podcast of this type as well. I generally enjoy music or some topic that strikes my fancy. I just ran across a good little acoustic guitar podcast site for music called Minor 7th, check this out:

http://www.minor7th.com/podcast.html

Or if you just want to look around for a genre that appeals to your own interest go over here: http://www.digitalpodcast.com/browse-music-1-1.html

There are also audio books and such you can download. Sometimes I like to listen to audio interviews with people, like authors, that I find interesting. I just ran across a pretty neat site for Sci-Fi fans. It has some SF stories and quite a few other things. I downloaded a short story from there by Connie Willis. She's a SF author that has written many stories and won many prestigious awards. I first ran across her when I was picking up Writer's Digest magazine. At the time, I was picking them up as Stephen King had a column in the back, but then notice where she was writing a column in them as well. I didn't know her or her writing at the time, but her columns were engaging to read. Somehow I mentioned her name to my sister though a conversation and to my surprise found out she lived near my sister in Colorado, up around Greeley. At any rate, if you like SF stories and such, check out this site: http://www.freesciencefantasy.blogspot.com/

At any rate, there's a ton of that stuff out there, it just takes a bit of time to find out where to find some of it, and what interest you the most. Happy surfing.