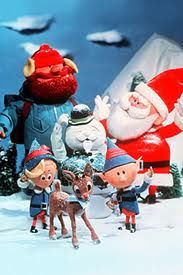 Along with the holiday of Thanksgiving comes socializing with family and friends, watching some football, good meals and cheer, plus I generally try to watch the Macy's Thanksgiving parade, the tree lighting at Rockefeller Center (which actually comes on TV tonight).

I also like to watch my fair share of Christmas movies. Here's a few of my favorite ones:

1. A Charlie Brown Christmas--I like how the Peanuts gang get together and share Christmas carols, that Christmas means more than just presents, and a great score by Vince Guaraldi.

2. Rudolph the Red-Nosed Reindeer--I like the 1964 stop-motion version with the Burl Ives narration, and the dreaded Abominable Snow Monster!

3. A Christmas Story--a kid wishes for a Red Ryder carbine-action, 200-shot Range Model air rifle with a compass in the stock and a thing which tells time. But his parents fear he'll shoot out his eye with it. I haven't ever read the book, but have always wanted to.

4. It's A Wonderful Life--Clarence the angel will get his wings if he can help out George Bailey, a timeless classic.

5. National Lampoon's Christmas Vacation--still one of my favorites, and I'll generally find a scene or two to laugh at.

6. A Miracle on 34th Street--When Santa falls down drunk in the Thanksgiving Day Parade, reluctant Macy's supervisor Doris Walker (Maureen O'Hara) offers the job to a bearded Kris Kringle. Look for a six year old played by Natalie Wood.

7. White Christmas--Bing Crosby & Danny Kaye team-up as war buddies turned entertainers who fall for a pair of sisters (Rosemary Clooney and Vera-Ellen). The boys follow the girls to a resort, which is owned by their former commanding officer, and he's in danger of losing the place. What better reason to stage a show than to keep the resort out of hock? Maybe not my favorite Christmas movie, but good songs etc., and it you haven't seen it, it's worth a watch.

8. The Polar Express--animated tale of a boy taking a train ride to the North Pole.

9. The Bishop's Wife--been a while since I've seen this, but an angelic Carey Grant steps in and uses a little magic refresh the bishop's wife and save her husband from ruin.

10. Home Alone--it coined the phrase, Yes..., who knew? At any rate, I do enjoy it. Did I miss any you enjoy? Let me know.