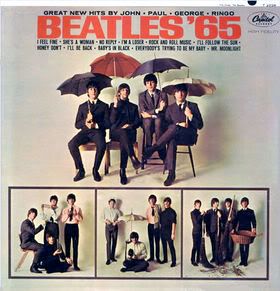 It's raining here today, which is okay, we need a pretty good rain, as we've been in a burn ban around this area. I watched the Dallas Cowboys play the Tennessee Titans the other day, and the Cowboys lost, but a pretty good football game. My brother and sister are coming down to visit this weekend, so I need to get up and do a few chores like house cleaning here in a bit--something I'm a bit reluctant to do at times. The Beatles'65 album above is one of the first albums I got as a teen. I'd been listening to music before that, and remember when the Beatles were on Ed Sullivan. The Beatles and the British Invasion was a bit deal for me back then. Although I got hooked on music even before that. My parents had a RCA player, I started to say Victrola, but I don't know if that the proper term. It was a player which had an AM tuner in it, and a 45 rpm record player in it for that format. I'm not even sure it had FM, or even if FM was around at the time, it probably was, but who knows how many stations that used FM was around in the 50's?

At any rate, I'd sometimes go in the living room and just turn the tuner around to see what I could find. It was a like a time machine or some odd sci-fi device where you'd never know what you could pull in on the tuner. It could be some black doo-wop band, some fire and brimstone sermon, some pop from that time period like Frankie Avalon, Peggy Lee or something like that. I would just turn it on and see what I could find and you'd hear songs too that would capture your attention. They had hit pops songs like: Flying Purple People Eater by Sheb Wooley, Johnny Horton's The Battle of New Orleans, Yellow Polka Dot Bikini, David Seville & the Chipmunks' Alvin and His Harmonica (Seville also had a novelty song called The Witch Doctor), Big John by Jimmie Dean, Sixteen Tons by Tennessee Ernie Ford, and a lot of that sort of told a story or had a hook to it that captured my attention in some ways. I'm sure a lot of those songs were also made for the merging baby boomer, teenage market at the time too.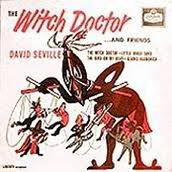 At any rate, music captured me at a young age. So in 1965 my parents bought me my first Sear's Silvertone stereo. It played amazingly well, and sounded so good. Along with the Beatles' album they bought me a Roger Miller album, which I believe, was his second release. It had the song on it called Dang Me, and he had made quite a few radio hits like King of the Road, England Swings, and Do-Wacka-Do. He had sort of a folkie, country sound to his music that had wide appeal. I know some might scratch their heads wondering how music like the novelty songs were so big, but all I can say is that it captured the teenage audience at the time, created a story sort of, had a catchy melody and you could pick up the lyrics pretty easily and sing along with it. The formula worked pretty well. There weren't cassette recorders back then, and most people didn't have a reel to reel tape machine either so the artist had a quick two to three minutes to capture one's attention so you'd want to buy their 45 record. If a record got hot, well that mean a lot more air time, getting their hit in the jukeboxes, and so forth, sort of instant success. The subject matter might have changed with the Beatles, but not by much. Their pop songs still were very catchy, along with a lot of pop songs at the time.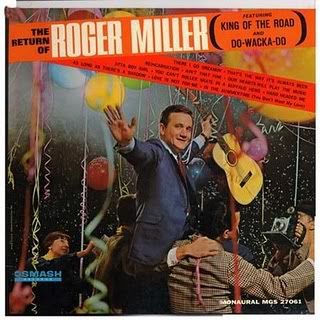 Well, here's a neat little LP cover site I ran across: http://lpcoverlover.com/

It's pretty cool and you can listen to a few of the songs thru a small media player the person has on the site. Some of that's pretty neat, and the comments are interesting. Time to go, the storms outside are getting more intense :)