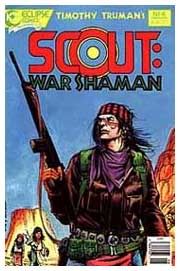 I listened to some comic podcast today, which was actually pretty fun. One was on Eclipse comics, which was an independent comic back in the 80's. I enjoyed a lot of the books that they published, Scout being one of them. I like how Tim Truman drew and the tough guy pulp fiction that was in the pages. Listening to the podcast brought back a lot of old comic book collecting memories. I also enjoy the run of Miracle Man by Alan Moore and various artist at the time. Miracle Man, some say was sort of a Superman clone, but I think it also bared a resemblance to Shazam or Captain Marvel. As both characters had to utter a word to be transformed to become the superhero. However, Shazam was a lot more lightweight, whereas Miracle Man was dark and a delicious wild ride. I was lucky enough though to find all the issues of that 24 issue run. Moore dropped off the book before completion and Neil Gaiman wrote the last few issues. The book so far hasn't seen recollected due to legal issues, I think they said on the podcast Todd McFarlane has the copyright or something to that effect, and so it's still in some sort of limbo.

At any rate they had lot of other podcast on that site, if interested you can head over to: http://indiespinnerrack.blogspot.com/ If you care to download some of their podcast and listen to some of their shows.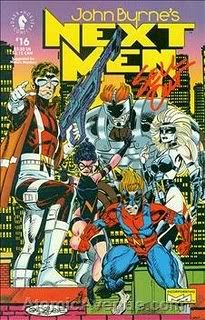 I also found another comic podcast show, but I've yet to listen to it. I saw where they have a three-part episode on John Byrne's Next Men, so that might be interesting to hear. I love hearing about some of those creators from the 80s because that's when I started to get back into comics again, and sort of brings back memories, and at the same time I wonder whatever happened to their creators. I used to be a big fan of the fanzines as well and would read Comic Buyer's Guide, Amazing Heroes, The Comics Journal for interviews and so forth. CBG is still pretty interesting, but they've changed their format to a magazine size, similar to Wizard, and like Wizard have a price guide in the back (which is a waste of paper). I think we've gotten past the stage of, I'm going to sell my copy of Superman vs. Doomsday and put my teen through college--we know that ain't happening. And The Comics Journal is still a pretty cool magazine, but once they went to putting out a phone book type publication for $10. ever so often I had to pass on that too. It's a shame too, but they got too lofty, for my fanboy taste. I might read about half of a Comics Journal, and the rest was of little interest to me. Still I'll give it its due. At any rate, if interested in another podcast on Byrne, and other topics go here: http://www.comicgeekspeak.com/episodes.php?podcast=ESSENTIALS

Man the weather here is nice and cool tonight, I love it.