I was out shopping for a new refrigerator the other day, actually I had already bought one at Lowe's, but once the guy pulled out the old one to install the newer one, I saw I did indeed have a water connection in the wall, and decided to take the newer one back and get one with an ice maker model. They just delivered the new one today, and I'm much happier, it will simplify my life, which I'm all for. Kudos to Lowe's for the exchange.

However once I did the exchange at Lowe's that Sunday I went by Hastings just to see what's shaking and browse. I ran into a used copy of the Yoshihiro Tatsumi book, Abandon The Old In Tokyo on Drawn & Quarterly press. I first ran into Tatsumi's work at the Odessa Public Library. And by the way, I think more and more libraries should include graphic novels in with their other books. What better way to get kids to read? But also because I love the art form, and should be available. The Odessa Library had many of them, which surprised me a little bit, but also I respected them highly for it (they even had The Walking Dead hardback books, and some small press related comics), and another library in Texas that has a LOT of graphic novels was the Plano Library. At any rate the Odessa Library had Tatsumi's first book, The Push Man & other stories. I'd read about it online somewhere, and decided to check out the book from the library. If I were to describe Tatsumi's work in just a few words I'd say he's the Asian Will Eisner. I'm not referring to Eisner's Spirit or John Law stories, but his urban tales set in the Depression or tenant buildings of New York--both comic creators focus on characters that have the feel of nonfiction or realism. And both creators deal with psychology, the human condition, or some part of life that is drawn from real life as with Eisner, the Depression or World War II, and as with Tatsumi, war themes or stories after the war, or just life centered around urbanization. A lot of his stories are bleak in nature showing the darker sides of humanity, sometimes his stories deal with dark themes or perversity in humanity, but within those stories will also be a bit of humor.

At any rate, I'm enjoying this newer book. The stories read too quickly for me, but I guess that's a hallmark of a good tale. I wish his stories could be seen by a wider audience and I think manga might have been the best venue for them--cheap, disposable pulp paper, that everyone could "purchase" and read and enjoy. Drawn & Quarterly press have done a great job of reproducing them, but at $19.95 a pop, I doubt many people will buy the book at such a high price, and that's a shame. I guess my best advice here is to check your public library and see if they have the books to check out and read. If you live in a metro area, chances are they will, and you can check out some other books as well. You might was well look thru the public library's DVD and CD collection. Most metro to mid sized libraries have media areas these days, and you'll find many great gems waiting to be explored. Enjoy your hunt.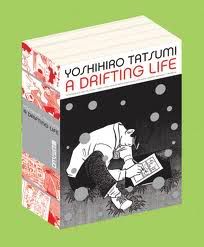 A Drifting Life has been released and at 800 pages it has to be his opus in storytelling. I'm really interested in reading it, so I may have to order a copy from Amazon.