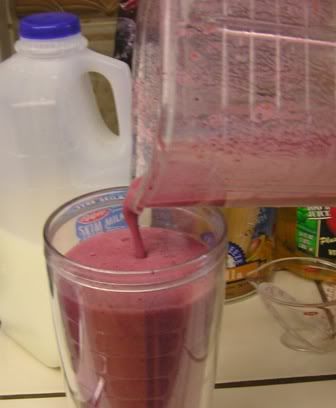 It's hot, it's summer, I love smoothies.

That's about as succinct as I can be. They're easy to make, taste yummy, cool you down, and healthy. What's not to like? I have a Oysterizer blender, and I went to Walmart and bought an extra attachment for mine. It's just a 20 oz. plastic drinking cup that comes with an extra blade attachment. I make mine with that. I put in about 4 to 6 oz. of orange juice (and sometimes add other juices like Minute Maid's Pomegranate Blueberry juice), a banana, some protein powder (which you don't have to add), about 2 or so oz. of vanilla or plain fat-free yogurt, four frozen strawberries, four ice cubes, and mix it up. It's that easy. Enjoy.

If you like you can add any juice you want or any fruit you want to vary it up. Yesterday I added a kiwi fruit to it instead of a banana, and it was great.